Tutorial
Take a look at the new features in the user profile and how you can upload a soil profile.
The uploading-process includes the following 6 steps: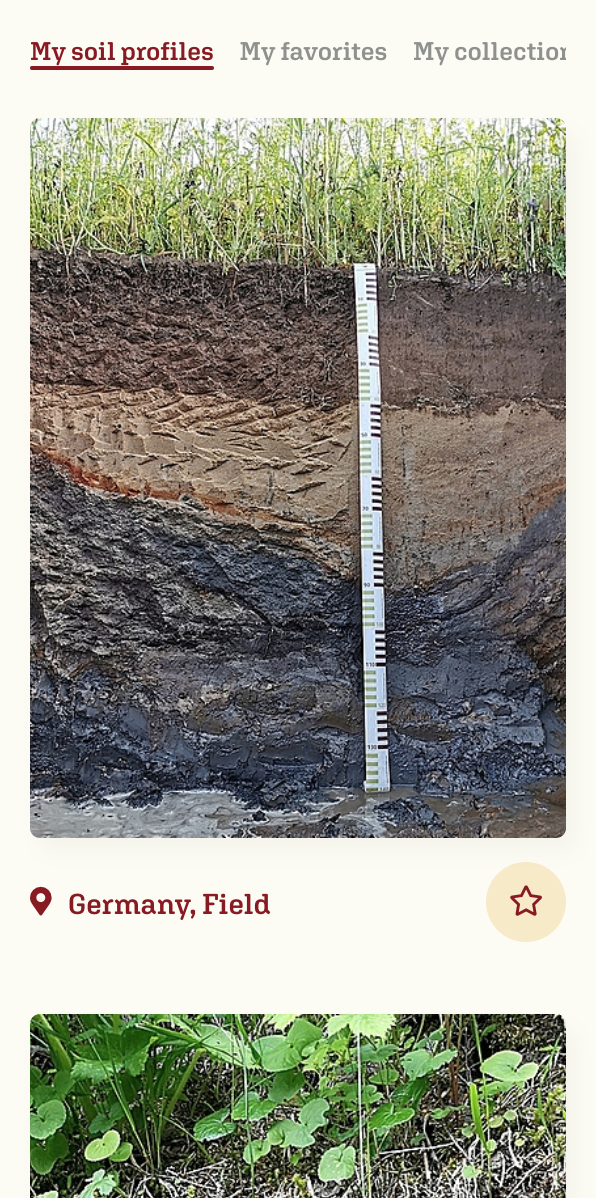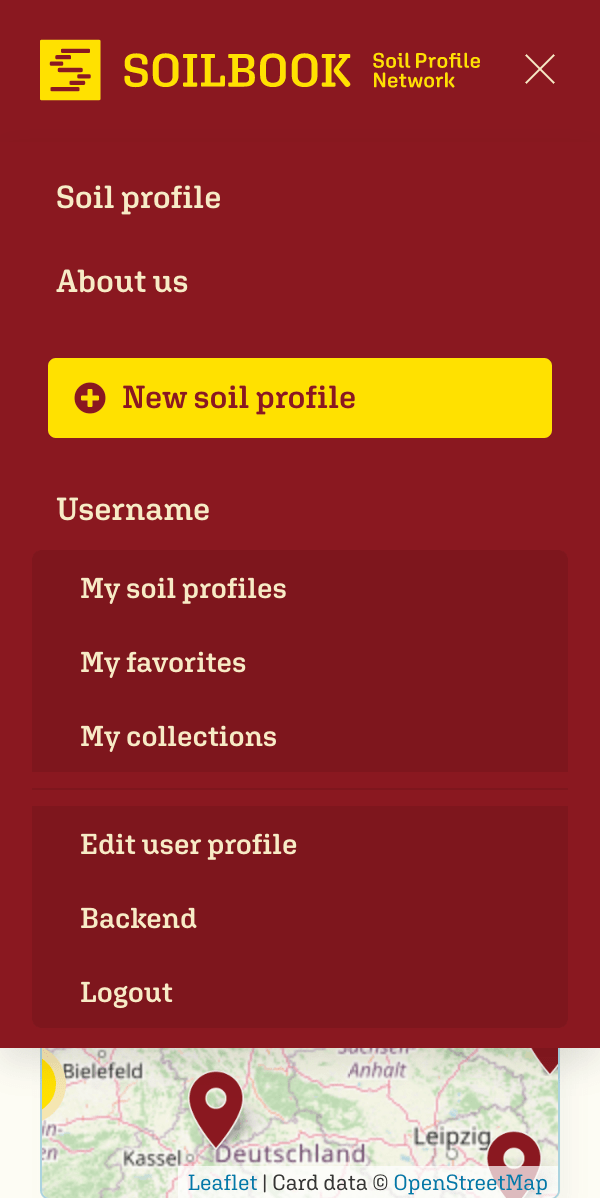 Instructions for excavating a soil profile in the field can be found here!
1.

Choose a preview image

Every soil profile needs a significant image, which is viewed as preview image! You can take the image directly or choose one from your image gallery.

2.

Add more images

Besides the preview image you can add up to 4 additional images (e.g. showing certain details of soil profiles or an overview image).

3.

Transfer geographical data

There are 5 ways to locate your soil profile:

3.1 Use the GPS-data of an image

When an uploaded image is marked with the pin symbol , GPS-data already exists. By clicking the pin the coordinates are adapted automatically.

3.2 Use the actual position

If you are on the site you can also use your actual position.

3.3 Use an address

If the field or property has an address you can use that to get closer to the position of the soil profile. Then you can proceed with 3.4!

3.4 Identify GPS-data from the map

Navigate the map to the desired position and set the position of your soil profile.

3.5 Enter coordinates

You can also set the position by entering coordinates (longitude and latitude).

4.

Enter soil features

Here you can enter soil features like land use, vegetation, smell and color of soil layers and soil life.

5.

Details

You can enter additional details optionally.

6.

Publishing

Finally you have to publish your soil profile. We are checking the images and then activate the soil profile. Before the activation the soil profile is stored as draft version.
New features in the user profile
Create collections, add favorites
Create collections

Keep your soil profiles and the soil profiles of other users in your collections.

You can create, edit and expand any number of creations. You can keep your collections private of make them visible for other users.

Add favorites

You can add soil profiles to your favorites. You can find your favorites in your user profile. Simultaneously the creator of a soil profile sees how many users set his soil profile as favorite.
Why Soilbook?
Soils are the foundation of our existence and are – besides water, air, animals and plants – the most valuable and the most worthy of protection goods of mankind.
We want to create awareness for the variety but also for the endangered status of soils.
Learn more about Soilbook
Register now and become a part of the biggest soil-community
Register now